Specifications of steel grating: 
1) longitudinal strip (Flat Bar) distance: conventional 30,40,60 (mm); and non-standard spacing: 25,33,35/50 (mm) and so on.
2) horizontal stripe (Twist steel): normal spacing 50,100 (mm); and non – standard spacing: 38,76 (mm).
3) height 20~500 (mm)
4) thickness: 3-15 (mm)
| | | | |
| --- | --- | --- | --- |
| Brand Name: | CSTARS | Model Number: | Q235 |
| Project Solution Capability: | Others | Product name: | ms gi hot dip galvanized serrated welded steel i bar grating mesh |
| Application: | Floor, drilling platform, stair, drainage ditch etc | Surface treatment: | Hot Dipped Galvanized |
| Standard: | ISO9001 | Length: | 6000mm |
| Type: | Light | Name: | Steel grating |
| keyword: | steel floor gratings | Thickness: | 2mm-5mm |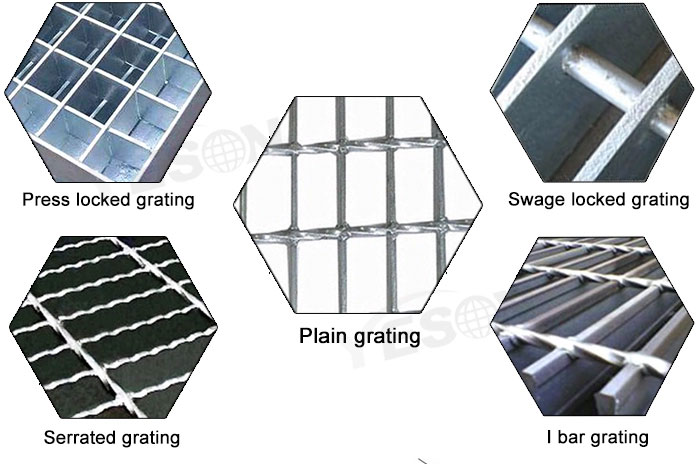 Steel Grating
Steel grating is made of flat steel which is cross-aligned according to a certain spacing and cross bar(twisted square steel,square steel,round steel, flat steel, etc.)and welded into a steel product with a square lattice in the middle.
Steel grating has been widely used in various industries at home and abroad, mainly used as industrial platform, ladder pedal, handrail, channel floor, railway bridge sideway, high-altitude tower platform,drain cover,manhole cover,road barrier, parking Field and so on. It has the advantages of ventilation, light transmission, anti-skid,strong bearing capacity, beautiful and durable, easy too clean, easy to install, reduce wind resistance and prevent accumulation of dirt.
The distance between the loaded flat steel:the center distance of two adjacent loaded flat steels,commonly used 30mm,40mm,60mm.
Crossbar spacing: Thr center spacing of two adjacent rails is usually 50mm,100mm, and can be produced according to customer requirements.
The width of the flat steel:20mm 25mm 30mm 40mm 45mm 50mm 55mm 60mm.
Flat steel thickness:3mm 4mm 5mm
Common Specification of Steel Grating
Remarks: Special Material, Special High Zinc Coating and New Style can be Customized.
Material Standard
ASTM A36, A1011, A569, Q235, S275JR, Stainless steel 304/316,
Mild steel & Low carbon steel, etc
Bearing Bar
25×3, 25×4, 25×4.5, 25×5, 30×3, 30×4, 30×4.5, 30×5, 32×5, 40×5, 50×5, 65×5, 75×6, 75×10…..100 x10mm etc;
(Width x Thickness)
I bar: 25x5x3, 30x5x3, 32x5x3, 40x5x3 etc
US standard: 1"x3/16", 1 1/4"x3/16", 1 1/2"x3/16", 1"x1/4",1 1/4"x1/4", 1 1/2"x1/4", 1"x1/8", 1 1/4"x1/8", 1 1/2"x1/8" etc
Bearing Bar Pitch
12.5, 15, 20, 23.85, 25, 30, 30.16, 30.3,32.5, 34.3, 35, 38.1, 40, 41.25, 60, 80mm etc.
US standard: 19-w-4, 15-w-4, 11-w-4, 19-w-2, 15-w-2 etc.
Twisted Cross Bar Pitch
38.1, 50, 60, 76, 80, 100, 101.6, 120mm, 2" & 4" etc
Surface Treatment
Untreated(black), Hot-dipped galvanized, Powder coated, Electroplate, Painting or as per customers' requirement.
Grating Style
Plain / Smooth, Serrated / Teeth, I bar, Serrated I bar